Wife of the President Dr. Aisha Buhari, has taken the Adams Oshiomhole, led national executive of the All Progressives Congress (APC ) to the cleaners over controversies sounding the ruling party's primaries in some states.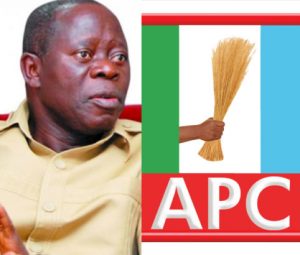 Mrs. Buhari expressed her dissatisfaction with the conduct of APC primaries on her verified Facebook page. Mrs. Buhari's post has been shared by many of her followers within an hour of its being posted on Sunday morning.
States like Imo, Zamfara, Adamawa, Lagos, Ogun and Kaduna have been plagued with disagreements between governors, other major stakeholders in state and APC's national executive.
But many of Mrs. Buhari's followers, who commented on her post on  traced her complaints to the failure of her brother, Dr. Mahmud Halilu  to defeat Governor Muhammadu Bindow to emerge as APC governorship candidate in Adamawa State.
The wife of the President also had those, who commended her for speaking out in favour of candidates who, like she opined where allowed to invest time and money, when the party already had preferred candidates.
Bindow was declared winner of the APC governorship primary election in the state with 193,656 votes to defeat two other candidates.
Declaring the result on Sunday, the Chairman, APC Committee on Adamawa Governorship primary election, Mr Ahmed Jibrin,  said  Halilu Ahmed  who scored 15,738 votes came second while Malam Nuhu Ribadu came third with 8,364 votes.
Read Mrs. Buhari's post bellow:
It is disheartening to note that some aspirants used their hard earned money to purchase nomination forms, got screened, cleared and campaigned vigorously yet found their names omitted on Election Day, these forms were bought at exorbitant prices.
Many others contested and yet result delayed. Fully knowing that automatic tickets have been given to other people.
All Progressives Congress being a party whose cardinal principle is change and headed by a comrade/ activist whose main concern is for the common man, yet, such impunity could take place under his watch.
Given this development one will not hesitate than disassociate  from such unfairness, be neutral and speak for the voiceless.
It is important for the populace to rise against impunity and for voters to demand from aspirants to be committed to the provision of basic amenities such as:
1. Potable drinking water
2. Basic health care ( Primary Health Care centers)
3. Education within conducive & appropriate learning environments.
Let us vote wisely !!!!
LONG LIVE FEDERAL REPUBLIC OF NIGERIA!!!!!!