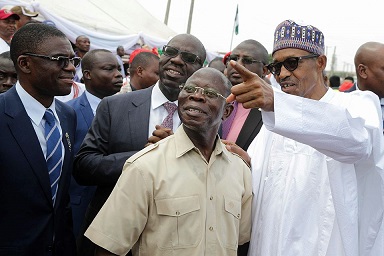 —–Fani-Kayode warns PDP that ex-governor is a 'formidable adversary'
The Peoples Democratic Party (PDP) has criticised President Muhammadu Buhari's over what is said was his high-handedness and coronation of former Edo state governor, Mr. Adams Oshiomhole, as the National Chairman, of the All Progressives Congress (APC) at the Presidential villa, without allowing for a free and fair congress as enshrined in the party's constitution.
According to the PDP, the ruling party has become an organisation where "any thing goes,  where decisions are taken only according to the whims and caprices of President Buhari in conjunction with his Presidency cabal".
The party in a statement by its National Publicity Secretary, Kola Ologbondiyan, opined that APC governors, who met with the president on Tuesday, bowed to the orders and preferences of President Buhari, adding that, the APC has since lost its populist buoyancy and strength with which it was berthed on 2014.
The candidatures of the former governor and the current national chairman of the APC, Mr. John Oyegun has divided governors and stakeholders in the South-South zone.
For the PDP, it described as appalling,  reports of threats and harassment of APC members who demanded for free and fair congress, as well as those, indicating support for other aspirants other than Oshiomhole.
The statement read in part: "It is obvious that the human rights abuses, intimidations, arrests and detention of opposition and dissenting voices, including the uncompromising members in the APC, as being witnessed in the persecution of senators, are all spawned towards the 2019 re-election bid.
"We invite Nigerians to note that the same Oshiomhole, who is burdened by allegations of humongous corruption while serving as Edo state governor, is the person President Buhari, the African Anti-Corruption Champion, is pushing as the National Chairman of his party without taking him through the rigours of due diligence checks.
"We know that the Presidency has been jittery over mounting opposition against President Buhari within the APC and, in their desperation to clinch the party's presidential ticket at all cost, finds a good ally in the former Edo state governor, who by now should have been facing investigation over allegations bordering on corruption".
"Nigerians can now see that the APC is an ideologically vacuous vehicle used to seize power in 2015 and which oppressive elements working for President Buhari are also currently deploying to subvert the will of the people ahead of the 2019 general elections.
"On our part, the repositioned and rebranded PDP remains open and committed to strict observance of all tenets and principles of internal democracy, particularly in providing a level playing ground for all in the process of electing officials and candidates for all position and all levels of political engagements", Ologbondiyan further stated.
Meanwhile Ex-Minister of Aviation Mr. Femi Fani-Kayode , earlier on Wednesday,  described the alleged endorsement of Oshiomole as National Chairman of the APC as "dangerous."
Fani- Kayode in two tweets on on his @realFFK handle warned those in the opposition that Oshiomole, unlike Oyegun, will be "dangerous and formidable."
"I sincerely hope that my colleagues in the opposition will appreciate the implications if Adams Oshiomole is elected Nat. Chairman of APC at their coming convention," the former minister tweeted on Wednesday.
"Unlike John Oyegun, Oshiomole is no soft touch. I know him well: he is a formidable and dangerous adversary.
"With Lai Mohammed, Femi Adesina, Shehu Garba, Bolaji Abdullahi, Rotimi Ameachi and now Festus Keyamo speaking for Buhari in 2019, the election will be a vicious and dirty fight.
"This is a strong line up. We must get our act together and be ready to fight them fire for fire," he stated.