……Aunt say she has no regret sleeping with Niece's husband
……….The devastated bride discovered the pair when she came home early from work
A 'hysterical' bride found her new husband in bed with her aunt just weeks after they tied the knot.
Kim Elkins, 33, discovered the pair naked in her bedroom when she came home early from work one afternoon.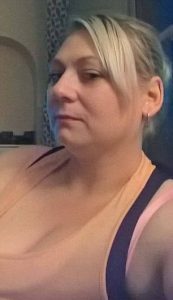 Friends had become suspicious after spotting her aunt Lorraine Esslemont allegedly getting 'up to no good' with new husband Kenny Slocombe at the wedding reception.
But it wasn't until six weeks after the ceremony that the devastated bride discovered her new husband was cheating.
She told The Mirror: 'I was absolutely hysterical. The fact they'd had sex in my marital bed made it so much worse.'
Ms Elkins said Ms Esslemont, who is only ten years older than her, was more of a friend than an aunt – and she even went to her for relationship advice.
The mother-of-one met Mr Slocombe online in 2009, and Ms Elkins said they had an instant connection.
Ms Elkins (pictured) came home early from work one day to find her husband and aunt naked in her bedroom
They arranged to meet at a train station shortly after – and the care assistant and ex-cab driver were engaged just seven months later.
The pair, who married at a registry office in 2012, now have a seven-year-old son together, Ethan.
But their relationship took a turn for the worst when Ms Esslemont and her partner Ian moved into Ms Elkins' two-bed home.
Ms Esslemont soon split with her partner due to the cramped conditions, and the couple offered her to stay as long as she needed.
Six weeks after the wedding Ms Elkins found her husband and aunt cuddled up on the sofa, and schemed to come home early from work the next day after she grew suspicious.
It was then that the care worker found the two together, and she threw them out of the house.
She said: 'I'd forgotten my key, so I banged on the door. I heard Kenny say: "S***, it's Kim."'
'He came to the door and I demanded to know where Lorraine was. He said she was in the spare room, but I stormed straight into our bedroom to find her stark naked.'
The mother-of-one, from Wallsend in Tyne and Wear, decided to give the relationship another go for the sake of their son – but it fell apart again just weeks later.
Mr Slocombe left to move 500 miles away to be with her aunt – which he now claims he did because Ms Elkins was 'controlling.'
Both Mr Slocombe and Ms Esslemont deny getting together at the wedding reception.
And the estranged aunt said she feels no guilt about breaking up their marriage – claiming 'you can't help who you fall in love with.'
UK MAIL