*Pauline Tallen, Amaka Ndoma-Egba, Alayingi Sylva, other dignitaries grace birthday luncheon
Members of the Catholic Women Organization of Nigeria (CWO) of the Arch-Diocese of Abuja on Wednesday honored the Director-General of the National Centre for Women Development (NCWD), Mrs. Mary Ekpere-Eta Esq, with an award for excellence.
The CWO was led to the luncheon organized to mark Ekpere-Eta's birthday by its Deputy President, Mrs. Mary Umuezenwe.
According to CWO, Ekpere-Eta has proven herself a worthy ambassador, who works tirelessly for the empowerment of women and girls.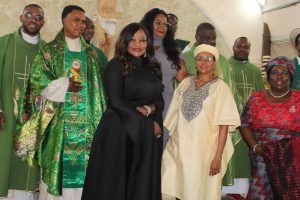 CWO members who came in their trademark Ankara wrappers were among the many friends and associates of the NCWD Director-General, who joined her at the Church of 12 Apostles Catholic for a joyful thanksgiving service.
Ekpere-Eta who looked resplendent in a grey number was also joined by Mrs. Amaka Ndoma-Egba, wife of the Former Senate Leader, Sen. Victor Ndoma-Egba, wife of the minister of State Agriculture, Mrs. Susan Lokpobiri and former Bayelsa First Lady Mrs. Alayingi Sylva.
Chairperson, governing council of the National Agency for Control of AIDS (NACA), Dame Pauline Tallen heralded the long list of friends and political associates of the D.G, who thronged the Banquet Hall NWCD venue of the luncheon.
Management and staff of NCWD were on hand to show support, even as they presented the D.G with a birthday card.
Guests were treated to sumptuous meals and assorted drinks at the event, which received blessings from Father Cyril Nwankwo.
Father Nwankwo blessed Ekpere-Eta, praying for God's continued grace and blessings upon her life.