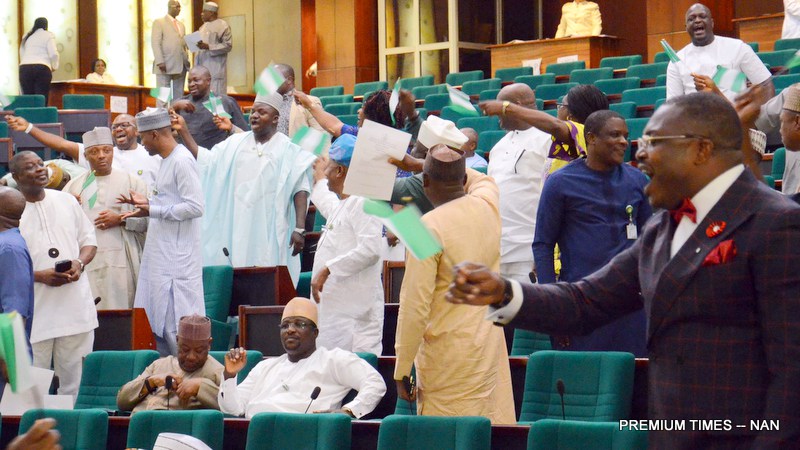 It was a day of anger in the House of Representatives on Wednesday  as members  took turns to express their disappointment with over reports of $30,000 bribe collected by members to withdraw their support for the Electoral Amendment Bill .
The bill passed by the National Assembly amongst other things,  altered the sequence for elections next year.
Members resoundingly resolved to refer the allegations of bribery of lawmakers as indicated in a motion of privilege raised by a member,  Danburam Nuhu,  to its Committee on Ethics and Privilege for investigation.
Nuhu in his lead debate called for a thorough investigation into the matter as his reputation and that of other members was on verge of being damaged.
"I'm beginning to worry that my constituents are now doubting my integrity. I want the House to support this matter so that the House Committee on Ethics and Privilege can investigate this matter, which is alleged to tarnish our images as members of Parliament", he said.
Leader of the House, Femi Gbajabiamila insisted on taking the matter to court to determine the truth behind the report, noting that such report is injurious to the reputation of members.
Gbajabiamila denied knowledge of money exchanging hands saying, "the House should take action on the suit of defamation. It is time for the House to nail the issue. There is need for reaccreditation of journalists covering the National Assembly.
"Let me make it abundantly clear that bribery and corruption is a criminal case. You don't speculate on a matter that can be so injurious and damaging to someone's character. This is fake news. If anyone has received any money, I am not aware of this. This is a matter that is ripe for litigation."
Calls for a full investigation into the  bribery allegations received support from  Tajudeen Yusuf, Hassan Saleh and Aliyu Madaki.
"I am worried the way journalists write and publish stories without confirmation. We are not corrupt. We did not collect any money. No amount of allegation will stop us from performing our duties as legislature", Madaki argued.
In his intervention, Speaker. Yakubu Dogara, however advised that the matter be referred to the House Committee on Ethnics and Privileges, reminding his colleagues that it is the responsibility of the committee to investigate and advice the House on the next line of action.
"It is the Ethics and Privilege Committee that will look into the matter to know whether the House privilege has been breached. I don't think it is right to go to court", the Speaker said.