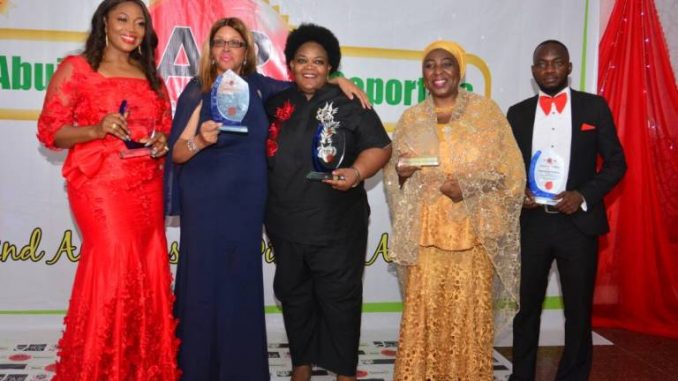 It was a night of comedy razzmatazz and all round fun as celebrities from all walks of life thronged the Hotel de Bentley venue of the 2-year anniversary dinner and awards of abujareporters.com.ng.
The tone for  the night was set by the red and white ambience of the well- decorated venue of the event as guests could not but compliment the hosts for an evening of thrilling experience. Journalists, publishers, entertainers complemented the award winners who were drawn from various sectors.
In his welcome speech, the Editor- in Chief of abujareporters, Bamidele Ogundana went down memory lane to recall the birth of the website and how it has grown in the last two years to become a must read for top celebrities in Abuja and beyond.
Mr. Bamidele Ogundana handing award to representative of NIGSCOMSAT
He also gave an insight into how the award winners came to be recognised.
The Special Guest of Honour for the occasion, Mohammed Babangida also gave an opening welcoming speech. Represented by Alhaji Mohammed Abdul One, the scion of the Babangida family praised the organisers of the event as well as those to be celebrated urging them to keep up the good works
Among those who won awards were the Commandant General of the Nigeria Security and Civil Defence Corps, who bagged an award for the reforms he has introduced in the organisation; Barrister Esther Uzoma who was recognised for her unparalleled activities in women and human rights advocacy; the CEO of Diosa Virtuosa, Chief Mrs Julia Higgins Peters as the Female Entrepreneur of the Year; Donna Wallace, the last behind Tender Years Preparatory School and Oxford Manor College for her unparalleled contributions to education in FCT over the years.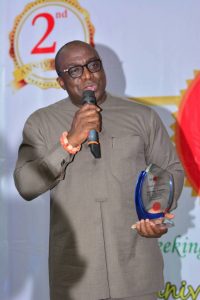 Others include MD/ CEO of NIGCOMSAT , Abimbola Alale, whose sterling leadership qualities continue to reverberate around the world especially over her efforts to encourage women to go into Space studies; Aminu Babangida, Chairman of Unity Bank who was given an award as the Young Businessman of the Year; Dr Obiora Okonkwo who was honoured for his Unprecedented contributions towards development of entertainment in FCT; Kehinde Kilaso of Glowing Ages Academy for the efforts of the school in eradicating illiteracy in FCT as well as Aisha Halilu who as a female journalist has distinguished herself in reporting society  up North.
The Award winners all gave kudos to the organisers and pledged that the awards will spur them to do more.