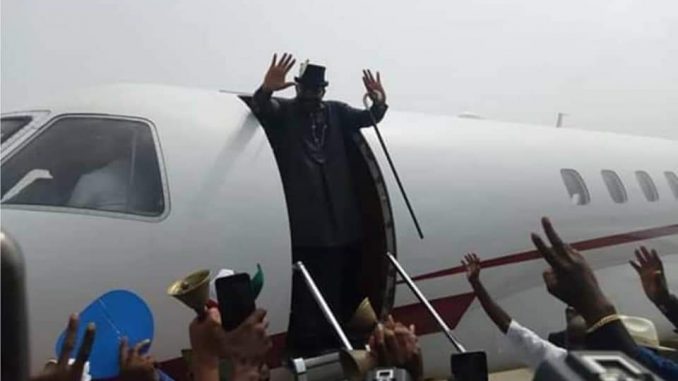 By Janet Mba Afolabi
It was February 14. Valentine's Day. I was on my way to Excellence Hotel, Ogba, Lagos where I was invited as a Guest Speaker to the 3rd Annual Lecture of Integrity Reporters Newspapers.

At Ojodu – Berger, my phone rang. "You are supposed to join us on the trip to Bayelsa", the caller said. "What time is the flight? "I asked. "12 noon" he replied.

I took a glance at my wristwatch. The time was 11:45am. It was apparent that I couldn't get to the airport in 15 minutes. So l told the caller that it was not possible for me to make it.

Ten minutes after l got to the venue of the lecture, my phone rang. The caller said" I have your boarding pass please come to the airport. If you meet us, fine if you don't …" I got up, signaled to Wale, the organizer of the event and dashed out of the hall. He saw me off to the car and l left for the airport. Luckily the traffic was not standstill and my driver drove like he wanted to fly. Eventually l made it.

Two boarding passes were given to me. To and fro. At 1:57pm, we took off. After the usual safety instructions, the Pilot's voice came on to say" Welcome to the first flight to Bayelsa. Flight duration would be 40 minutes.' It was then it dawn on us that this was indeed a historic flight to Bayelsa.
All of us in the aircraft ( the Pilot, the crew, Senators including Ben Bruce, top officials from Air Peace, some management staff of Nigeria Civil Aviation Authority, Senior Aides of Governor Seriake Dickson and we, Media Executives) were part of that history.

The flight was smooth, filled with joy, excitement and aroma of Valentine in the air. Three course meal was served by exceptionally courteous Air Peace crew members.
The excitement came to a frenzy when the aircraft touchdown. There was instantaneous jubilation. The joy was infectious. I joined in clapping.

The aircraft taxied towards a giant firefighting truck which was on standby. As we got close to it, there was a symbolic release of water on the aircraft, which created an impression of rainfall.
When we came to a final halt, thousands of people, including heavily armed soldiers were on ground to welcome us. What a great feeling! We disembarked, walked through the thick campaign-like crowd to the arena where Governor Dickson and other dignitaries were seated.
So many speeches were made. Dickson spoke last amidst deafening ovation. He said many sons and daughters of Bayelsa, home and abroad can now fly straight to Bayelsa without going through Port Harcourt airport like before.

One of those sons abroad is Chris Abili, a colleague in the early 90s, who comes to Nigeria every year. Each time he visited Nigeria from America where he has lived for 25 years, he flew first to Port Harcourt, before going to Bayelsa by road.

Everyone present at the event agreed that Dickson is working. He made a promise to build the airport in 2012, seven years after, and on his 7th anniversary, he delivered.
Congratulations, the good people of Bayelsa. The Glory of All Lands.
*Photos by Janet Mba Afolabi