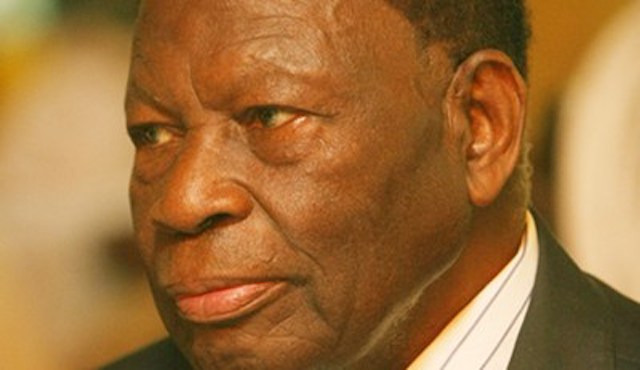 By Kemi Yesufu
Chief Akintola Williams, first African Chartered Accountant and founder of Nigeria's first indigenous chartered accounting firm; Akintola William's & Co. has died at 104 years.

May the grand old man rest in perfect peace.

News of his death inspires me to finally share this post which I thought of doing when I watched the first episode on the Netflix series, "Live to 100: Secrets of the Blue Zones". The presenter of series visited places like Okinawa in Japan and Sardinia in Italy (the blue zones) where you have the highest density of aged people in the world, this includes people between the ages of 90-100.
A few things stand out in documentary, these are the facts that a good (light and nutritious diet), a healthy lifestyle (plenty of exercise and a lack of bad habits) as well as love and care for the aged are the secrets to longetivity.
Terfa Alagh in celebration of Chief Akintola's long life on Facebook, remarked that the Yoruba live long.
Coincidentally, I have a close Tiv friend who said the same thing to me years back, though she added that there might be older persons in other parts of Nigeria, but they aren't celebrated as those in the South-West because they come from regions which are not as educated as the SW. I laughed off her 'jealousy', though she got me thinking and I arrived at some personal assumptions on Yoruba recording aged individuals. One thing I remember from that period of my rumination is my belief, that as seen in the Netflix series, in Yoruba land old people still have decent social lives and they are part of as many family and communal events.
It's quite common to see an aged Yoruba grandpa wearing aso-ebi at his grandson's wedding or graduation ceremony. The old man could travel for hours to make the event and his attendance is top priority. On average, the Yoruba respect and still involve the aged socially.
Beyond personal choices such as having a good diet and a healthy lifestyle, and the culture of certain people in Nigeria, our country with its poor life expectancy rate must invest in having a standard health system. In a modern world, including places like Japan and Italy, a functioning health system helps to save and prolong lives. The shortcut to funding a good health system in Nigeria is making health insurance compulsory at an affordable rate. We can generate N-trillions annually through compulsory health insurance payments. A modern healthcare system needs heavy investment.
We all don't have to live to 100 or even 90, but we can live decent and healthy lives with the help of government to whatever age we manage to get to.