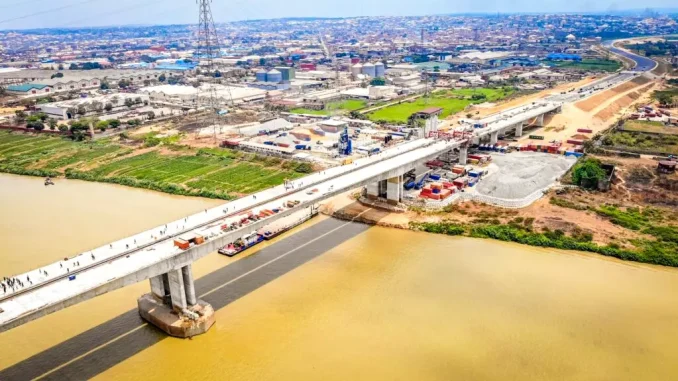 By Steve Osuji
The new bridge came upon me. Nay, I was transported upon the bridge and for a moment I was lost. I had been working my phone as we approached the Niger Bridge from Asaba and my subconscious being was expecting the good old steel bridge. But suddenly a magnificent dual-carriage six-lane thoroughfare accosted me.
Oh, it's the 2nd Niger Bridge, I quipped aloud.
Wow, this is magnificent, I announced gayly, this is more like it. This is the way to ride. This ought to be our basic standard in Nigeria today… anything short of this is actually unacceptable, I kept musing, half to the hearing of other passengers.
"God bless Raji Fashola," I finally said aloud to the hearing of all. And a heated conversation ensued immediately in bus.
It was started by Obasanjo, said one voice.
Goodluck Jonathan did substantial work, said another. We have Buhari to thank, not his appointee, said yet another.

While I agreed with them all, I pointed out that under a different works minister, this bridge may never have been completed during President Muhammadu Buhari's administration. I quickly reminded them about the Nigeria Air debacle starring a certain Hadi Sirika. I also mentioned the Nigeria Digital Switch Over project supervised by Lai Mohammed, among other examples.
These projects gulped billions of naira over eight years and they were never delivered. These projects missed their delivery deadlines several times and by May 29th, 2023, it dawned on us that these men were taking us for a ride (or flight of fancy of you like).
Truth be told, you need to be in government, especially the federal government, to realise how tedious and frustrating ot can be to deliver a major project in Nigeria from start to finish.
You have to contend with the funding bureaucracy, clear the roadblocks put up by the legislature, and literally hold contractors by the scruff, to conceive and deliver to fruition, even the simplest of jobs.
But this is where integrity, tenacity, track record and capacity, all come to play. Keen watchers must have seen Fashola at this site several times, inspecting, explaining and showcasing.
Yeah, we admit that the bridge has a political plank to it but it always had this. We also know that the boss, a la, the president must intend that the project must be done. Yet most projects are not delivered in Nigeria even in a two-term cycle.
So to sum it all, I told my listeners that unlike Sirika and Mohammed, for example, Fashola has track record, he has a face to save, a name to keep, a proven capacity for work, but more important, and among his peers in public service today, you would accord him with some integrity and character, before most.
So yes, history will record that the 2nd Niger Bridge was built by Buhari, but a certain Works Minister must be footnoted. Though some work is still on-going around the sprawling site, this is indeed a great feat. By this singular act, a bold new vista has been opened on the southeast and south south flanks of the country. Kudos Fashola, thanks Buhari.