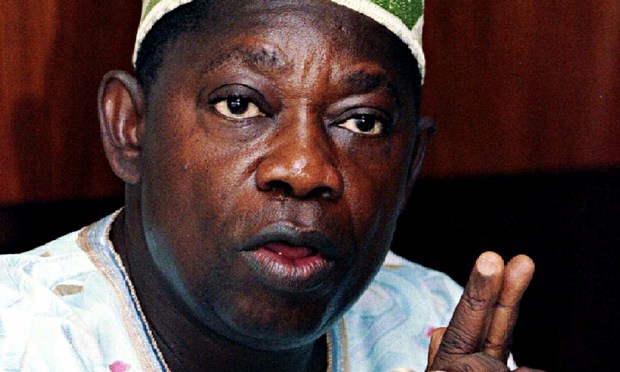 First son of the acclaimed winner of the June 12, 1993 election, Kola Abiola, has ascribed his father's victory to his distribalised nature.
Kola in an interview with Sun Newspaper said, Nigerians from different parts of the country felt familiar with his late father, MKO Abiola, hence their voting for him massively.
"Part of that strategy I spoke about earlier was how to convert his popularity to votes because his name was out there but it would only count if it is converted to votes and we achieved that. Even in the military and the police, he trained many officers", Kola explained.
Read excerpts from interview granted Sun editors bellow:
When you reflect on that election, what do you think gave Abiola victory?
He was the most detribalised person I know and we were all brought up that way. He was a pioneer in every business he set up because he always believed in indigenous talent. The bank we had used to be run by Pakistanis but it was my father who insisted that we would start having Nigerian MDs to run the bank. He believed that Nigerians could do anything Pakistanis could do and that was how we stopped having Pakistani MDs. By virtue of my father's detribalised nature, he had been to every part of this country. If any of his workers had an event in their village, he made sure he attended, even if it was for two minutes, so that people would know that you are an important person by virtue of him being there. He did it for many years and he was welcomed wherever he went.  He employed purely based on merit and not because you were from Abeokuta; so we had members of staff from every part of Nigeria.
Part of that strategy I spoke about earlier was how to convert his popularity to votes because his name was out there but it would only count if it is converted to votes and we achieved that. Even in the military and the police, he trained many officers.
But they said the military didn't want him…
Go to any barracks, they voted for him 100 per cent.
There have been reports that your mother, Simbiat, told Abiola not to venture into politics because of how difficult it could be. Is this a fact?
I spoke about it earlier on and she didn't say so.  She  only told him to wait till the transition period was over. She was on her dying bed anyway and she must know why she said so. It was not a no from her; it was only a matter of when.
There have been several reasons adduced for the annulment of the election. In your mind, what can you pick out to be the real reason MKO's election was annulled?
I am doing a documentary called 'Hope Derailed' in which I interviewed every post-election player and it would have been ready but for some delays. I interviewed everyone from IBB to Tinubu, Walter Carrington, Nzeribe, Susan Rice and every one of them who played a part post-election.
What were you able to deduce from your interviews?
At the end of the day, I didn't feel that the government of the day wanted to go. One part of the government didn't want to go; one part acted like they wanted to go and was playing pranks on the other part but, eventually, it was like they had a coup and outfoxed themselves. If you remember, there was a time my father called on General Abacha to correct the wrongs and I told him that that was a mistake because no military man will correct the wrong.
What were the mistakes Abiola made in the June 12 struggle? Was he too trusting because of his simplicity or was it that he was not destined to be president?
I am a big believer in destiny, but I know that we ran the perfect election. The participation was totally across board; Nigerians of all tribes and religions voted for us and we broke all the rules. But after it didn't happen, it means it is destiny.  It is because he trusted people that made him very successful in life. If he didn't trust people, many of those who worked under him would never have had the opportunity they had; he would never have given them the chance, so it is neither here nor there. You are who you are, period.
Did he make mistakes?
We all made mistakes. One mistake was calling on Abacha to come. You could call it a mistake even though my father's reasons were genuine. Another mistake he made then was to fly out to America the time he did. We had the initiative totally in our hands and he didn't need to leave because leaving meant he was handing the initiative back to the military. I tried to stop him but by the time I got to the airport, he had left. That same night, I took a flight to London to convince him that he needed to come back. He said if he came back, we would be arrested and I said I hoped we were arrested so that it would make amends for having left in the first place. He said he was going to the US and that I should come along, but I said no, that we both should not be away from the country. I came back and I walked through the airport and nothing happened.
It is not every day you find a stupendously wealthy man, championing a cause that alters Nigeria's history and later became a civil rights activist. He used to say that you do not stand in front of a moving train because you want to show bravery. But all of a sudden, here was a man standing in front of a moving train. Would you describe your father as a reluctant hero?
For all that he did for individuals and for the country as a whole, Nigerians said thank you to him through that election. He didn't get one single honour while he was alive and Nigeria used that opportunity to say thank you. The second point is that, through that election, he united the country, and he proved that, irrespective of where you come from, you can see yourself as one.
After my father died, I continued the struggle for June 12 to be officially recognised; I started with Baba (Obasanjo) but I knew that I would not get anything done. When former President Goodluck Jonathan came, I started again with him. Even after he had lost the election, I felt that it was one last thing he could do to engrave his name in the history books of Nigeria but, for his own reasons, we fell short at the very last minute.
When I met with Buhari in Kaduna as President-elect, I told him what I would like and, as God would have it, he had the strength of character to do it. It is a discretionary and not a political thing. Such an action is taken at the discretion of the President. I wanted three things: for my father to be honoured with the GCFR, so that Nigeria would accept that he won the election because that title goes to Presidents only. The second issue was that I wanted June 12 to be declared Democracy Day and I got that. May 29 Democracy Day was a fake date; that was just Obasanjo trying to re-write history. One thing I didn't ask for but got and I'm very grateful to the President and Vice President was the apology made to my family; that was the icing on the cake. Some say it was political but anything about Abiola is political and that is why it took so long for him to be recognised by giving him his due place in the history of Nigeria. We didn't expect the apology and I am very grateful to the President.
For me, that journey ended that day even though it crystalised this year. It is for that reason that I have not been politically involved. I have received offers for ministerial appointments but I totally refused to take them because it is incomplete, but now I feel fulfilled.
Where were you on the night Abiola was arrested? Did you anticipate his arrest?
Yes I did. There was a particular day that we got supposedly credible information that they were going to raid the house and arrest him and the idea was for him to go to the American embassy to take refuge. When I was told about the plan to arrest him, I said, well, he is in his house; let us see what will happen, but my family members felt I wasn't taking the issue very seriously. They said they wanted him to go to the American embassy and I asked why. I couldn't convince anybody that it was a set up. So, we got ready for him to go to the embassy and when I saw lots of people around him, I then asked that if we are going to the embassy, why the convoy? I told them to leave him to me that I would personally drive him there.
On our way, I told him that the whole set-up didn't seem right because if I shot him there, people wouldn't blame me, they would blame IBB. So, in order not to trivialise the issue, he should come and stay in my house. He agreed and we headed back to Anthony, where I lived, and he spent the night in my house. The following morning, all the papers carried reports that he was at the American embassy and my father told me that I was right that the entire American embassy thing was a set-up.
When the issue of declaring himself president came up, I told him it was not a good idea but that if he insisted, he should make sure that every single person who suggested it to him would all be physically present when the declaration was made. I told him to announce his cabinet and let all of those cabinet members be there with him while he made his declaration. I told him that if they were not willing to do this, it tells us that something is wrong. He said okay, so I went home. The next thing I heard was that he was on his way there; then I knew that there was a problem.
So, you were not in support of his declaration at Epetedo?
There were so many other things we planned to do, like attending the constitutional conference. We had a meeting in Kaduna and we agreed that there was no way we could challenge this guy. Since he said the conference would determine his tenure in office, let us go to the conference and give it to him. I came back and told my father and advised that, as the leader of the democratic process, he should attend the conference, let us see how they will shave his head in his absence.
But in the South-West, they decided to boycott the conference; I told my father that we were in a military regime, so whether we boycotted or we didn't boycott, the military would do what it wanted to do. That was how people like Bucknor Akerele became members of the Assembly; she just walked into the place and they counted her among the members.
When  Abacha took over, my father met with him and asked when he would leave, but Abacha said he didn't know. He then told him that if he wasn't going to tell them when he was leaving, they would not participate in his administration and that was why there was no one from the PF group in that administration. We participated in the transition to make sure the man left because there could never be a vacuum in government and that was why they participated in that.
But there were reports that MKO nominated the likes of Babatope and Onagoruwa into Abacha's government?
No, that is totally wrong. The guys that joined Abacha had committed themselves to being part of the government already. I told my father that these people were not committed to him and that they were going to join Abacha. I knew from the PF that these people had made up their minds already to go and because they just wanted my father to endorse the choice they had made, they called a meeting to make it look as if they wanted him to bless them so they could go. My father decided that maybe it was time for him to cut his losses and if the guys wanted to go and join Abacha, they were free to go. So he just left them to do what they wanted because they had already gone anyway.
Was he hurt when Kingibe joined Abacha's government? Did he feel betrayed?
It didn't surprise him because I had already told him. Knowing what I had known, I met my father in his room and told him to handle the situation right because if he didn't, we would be the biggest losers.  He then asked me what I meant. I pointed out people around him who were already gone; so he wasn't surprised when it happened.
When my father was arrested after the declaration, I went to see Abacha and I must say that he received me well. He asked me why my father declared himself President; I told him it was not a matter of why, but that the deed had been done already. I asked him what the way forward was and he said if I was able to correct it, that he was willing to let everything go. By correcting things, he meant that I should come out publicly and tell the country that my father made a mistake by declaring himself President, but there was no way I would do that. I had to stand by my dad and that was the beginning of his four-year incarceration.
Your father once said Abacha kept him in an open grave and what was left was to bury him. During that period, what condition was he in?
We never saw him where he was incarcerated in those four years. When we went to visit him, we usually waited at the police headquarters sometimes for two weeks. They usually brought him to the station at old CBN and allowed him to stay with us for an hour or more.
How was his spirit? Was he moody?
We carried on with courage as if nothing happened just to give him the strength to hang in there.
Was he hopeful that he would still become President?
At some point, he believed without a doubt that he would  reclaim his mandate and that it was only a matter of time.
Did you ever have any premonition that things were going to go wrong?
Why would I want to? Life always comes to an end; it does not matter when or how, it always comes to an end.