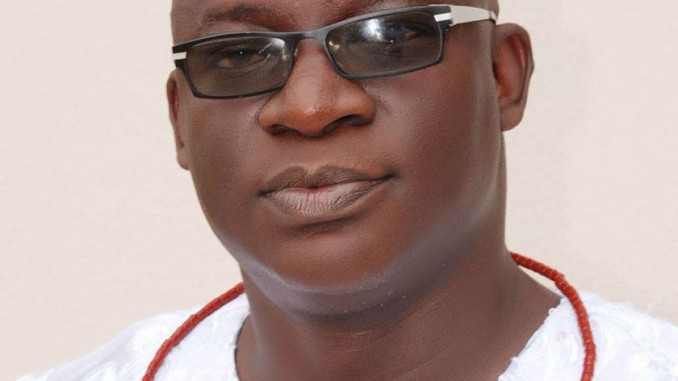 Deputy Senate President and Delta APC Governorship candidate, Senator Ovie Omo-Agege, has paid flowery tribute to late Delta Senator, Chief Pius Akpo Ewherido, describing him as the touchstone of representative democracy in Delta state.
Senator Omo-Agege spoke while addressing a huge crowd of All Progressives Congress, APC, members and supporters, Monday, January 23, when the ongoing ward to ward campaign of the party visited Ewu, Uwheru and Evwreni, in Ughelli South and North LGAs of Delta State.
According to him, Senator Ewherido was a shining example of commitment and compassion for the people, and that he set a formidable precedent for upcoming leaders and politicians.
Senator Omo-Agege visited the family home of the Ewheridos in Ewu, Ughelli South; and at the rally there, called for a minute of silence in memory of the late senator.
Meanwhile, Senator Omo-Agege has once again reiterated his promise to appoint a Special Ombudsman on inter ethnic relations in Delta State. He said this will address perennial herdsmen/farmers clashes, as well as other inter and intra ethnic conflicts that plague the state.
Speaking at the rally in Uwheru, he described conflicts as unacceptable and unnecessary, and promised to promote dialogue and greater engagement among concerned parties.
He noted that he is aware of the many concerns of the Uwheru people, among them the issues of flooding at Ohoro and other communities in the kingdom. He promised to address these in consultation with the representatives of Uwheru kingdom.
"I am aware of the concerns of the Uwheru people especially the flooding of Ohoro and other communities in the kingdom. I am also aware of the issue of herdsmen and farmers clashes which affect the economy and security of Uwheru. I promise that when I emerge governor, I will appoint a Special Adviser to look into the matter in a way that will bring peace to the area, and make everyone safe and happy. "
Senator Omo-Agege committed to construct the a bridge across the Arhavwarien River and complete the Orere Bridge, started by Delta Governor, Dr. Ifeanyi Okowa, just a few months to the end of his tenure.
"I will complete the Orere Bridge and the abandoned Ewu/Olomu Road when I become governor, " he said.
In Evwreni Senator Omo-Agege extolled the leadership of the founding leader of Delta APC, Olorogun O'tega Emerhor, stating that he, Emerhor, rallied leaders of the party to demand and secure peace and unity. He promised that when elected governor, he will sit down with him and other leaders to prioritize the needs and challenges of the Evwreni people.
At that rally, Olorogun Emerhor appreciated the loyalty of his kinsmen to his political leadership and called for total support for Senator Omo-Agege and all candidates of the APC .
Former President General of Evwreni Community, Olorogun Victor Ohare, isaid the Evwreni political class has appropriately positioned itself in Abuja and Asaba to bring home the dividends of democracy, while Chief Mcpherson Egbedi, President General of Uwheru, said that in the over five months since there hasn't been electricity in Uwheru, the streets were constantly lit by solar power provided by Senator Omo-Agege.
Former legal adviser of PDP in Ughelli, Chief Oba Ukpubie, who led 76 decampees into APC, said Senator Omo-Agege is the light Deltans seek. "My people have been in the darkness of PDP, but today we have come to the light of APC," he declared.