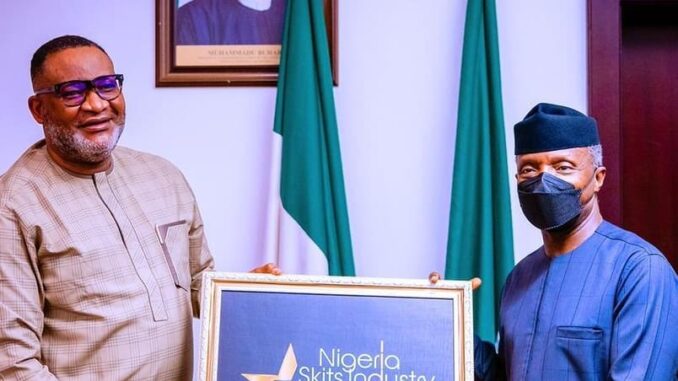 Vice President, Yemi Osibanjo on Thursday hosted some of Nigeria's skit queens and kings.
According to the man behind the Nigeria Skits Award, Mr. Bimbo Daramola, the V-P SAN recognises the place and contributions of creators in to the creative sector.
"Presidential recognition topped the series of endorsements earlier received by the Nigeria Skits Industry Award as Vice President, Federal Republic of Nigeria, His Excellency, Prof. Yemi Osibanjo  received in audience  renowned  Skit Artistes  and members of Awards Council who paid a courtesy visit to the Villa in continuation of the awareness drive tagged ROAD TO THE AWARD", Daramola said in his Facebook post.
"The Vice President, himself a lover of  Skits and one who regularly watches them, mentioned several artistes and some of their works needed no convincing on the need to further recognise the artistes for their talents and creativity and the need to support that sector of the economy thereby encouraging the Nigerian youths", he added.
Daramola, in company of  some Skits Makers, like Woli Agba, Taooma, Yemi Eleso, Josh2funny, Hyenana, Inspector Semiu, Gorozo Ekiti  appreciated the Vice President for receiving the delegation, noting that Prof Osinbajo has a reputation of listening to young people who also find comfort around him.
The skits makers also had opportunity ask government  to pay more attention to complimentary features that  affects the young people in their quest to survive in their chosen careers like  the issues of twitter ban and support for education across the tiers. 
They asked government to continue to extend  support to  creative talents as well as  ensure that the environment is made more conducive for contributions to the nation's growth and development. The Vice President  responded to all the issues and was later presented with the Awards insignia and was  formally invited to the maiden NIGERIA SKITS INDUSTRY AWARDS,  the first ever slated for 12th December 2021, with Lagos being the host city. The Nigeria Skits Industry Awards had earlier been endorsed by His Excellency Babajide Sanwoolu,  Governor of Lagos State , the host governor,