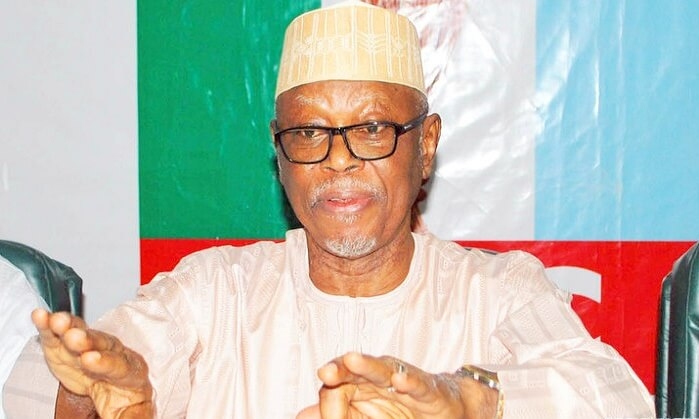 National chairman of the All Progressives Congress (APC) Mr. John Oyegun has described as misleading, media reports that he pushed for a tenure elongation for the party's executive.
Speaking at the National Executive Committee meeting of his party on Monday, Oyegun recalled that  it was at the February 27 meeting, that his executive was given more time, in -order to better prepare for the party's national convention.
 "We requested the NEC to approve a timetable for congresses and the convention ahead of the expiration of tenure of the current executive.
"However, rather than approve the timetable, members expressed concern that if we embarked on the congresses as planned, the process could precipitate a series of rancour, which might be difficult for the party to manage ahead of the coming general elections.
"It was therefore resolved with a near unanimous votes of 104 to 4 that the current executives of the party at all levels be allowed to continue in acting capacity for a period not exceeding twelve months starting from June 2018" he said.
Oyegun who decried what he said was a slew of unwarranted media attacks, further explained why President Muhammadu Buhari later took a different position.
He said: "However, at the subsequent meeting held on March 27, Mr. President informed NEC that he had had the opportunity to review the decision of February 27 and had become convinced that the decision taken by NEC, to the effect that party executives at all levels be allowed to continue in acting capacity at the expiration of their tenure was neither supported by the constitution of our party nor that of the Federal Republic of Nigeria.
"Even as he canvassed this position, Mr. President graciously announced that he was open to alternative viewpoints and refused to foreclose further debate on the matter.
" Given this opportunity, NEC unanimously agreed that a committee be inaugurated to further examine the issue and advise the party on the way forward so as to ensure that whatever decision that we take will not only be in the best interest of the party, but will also be seen to comply with extant provisions of our laws".
"In the past days, I have read news reports and all manner of comments and opinions that have tried to frame the majority decision of NEC as an attempt to primarily secure "tenure elongation" for Oyegun and the NWC.
"This is quite unfortunate because nothing could be further from the truth.
"We are looking for ways to minimize rancor in the party ahead of the next general elections, and we are looking for ways to save the party from potential legal booby traps.
"These are both valid considerations. The challenge that we have faced has been how to reconcile the two in the best interest of the party", Oyegun added.