…….Congresses peace, successful-Abdullahi
……….Bloodshed, violence marred congresses-Ologbondiyan
The All Progressives Congress (APC)  and the main opposition, the Peoples Democratic Party (PDP) have differed sharply on the outcome of  ward congresses of the ruling party.
While the APC congratulated  its members for what it said was the generally peaceful conduct of the party's ward congresses which took place across the country over the weekend, the PDP said the congresses were marred by violent and bloody clashes.
Spokesman of the APC, Mr. Bolaji Abdullahi in a statement made available to Frontline News Online on Sunday, said the party  commends members who served in the congress committees for their dedication and impartiality.
He however said the APC acknowledged there are "some issues arising from the conduct of the elections in some states".
"With this in view, the Party had set up various appeal committees which will begin sitting from Monday, May 7, 2018.
"We therefore call on all Party members to remain law abiding and where there are issues, they should seek redress through the appeal committees in their respective states", he added.
There were reports of violence in Delta, Rivers, Oyo states and postponed congresses in Adamawa and Imo state.
Differing with the ruling party, PDP in a statement by its spokesman Mr. Kola Ologbondiyan, condemned what it described as, the violence and bloodletting that characterized the APC ward congress in various parts of the country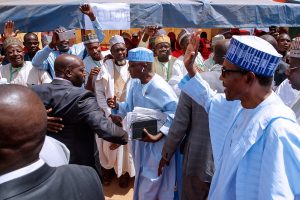 .
The statement read in part: "PDP is indeed worried that our electoral processes are still very much smudged by unnecessary resort to violence by contenders, even when there are available channels for the resolution of disagreements at various levels of engagement.
"The PDP regrets the violence and calls on Nigerians, particularly political stakeholders, to concert efforts to make our political and electioneering processes across board free of violence especially, as we approach the 2019 general elections.
"Our party values the life of every single Nigerian and we implore all contenders, including political parties, to eschew desperation for power, especially in the face of loss of popularity and public support due to performance issues".