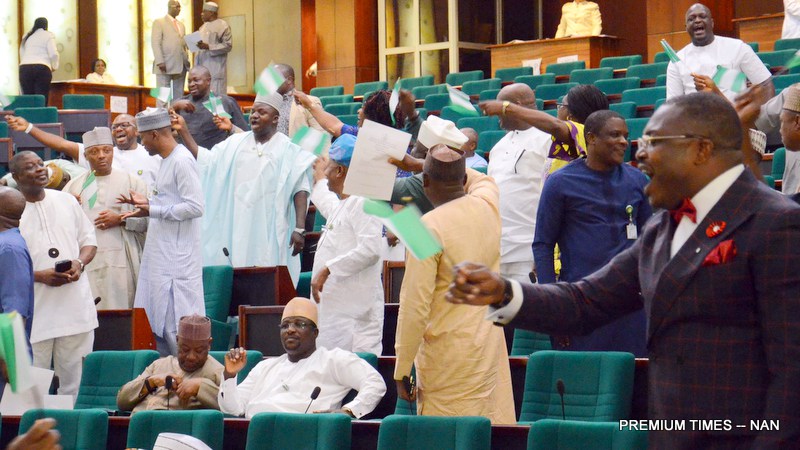 By Kemi Yesufu
Outspoken member of the House of Representatives, Johnson Agbonayinma, stands a risk of being suspended as he has been referred to the House committee on Ethics and Privileges.
The member representing  Egor/Ikpoba-Okha Federal Constituency of Edo State was referred to the committee over comments he made on television on the process of amendment of the Electoral Bill 2018.
The House resolved  on Wednesday that his comments has brought the National Assembly to disrepute.
The resolution  of House was subsequent to the adoption of a motion of urgent national importance raised by a member, Awaji Abiante.
Abiante argues that Agbonayima's comments where he posited that the House did not follow due process in amending the electoral Act was in breach of privilege of members.
In his contribution, another member, Uzoma Nkem-Abonta opined that the lawmaker's comment not only sends a wrong signal to the public but will also tarnish the integrity of the green chamber.
"I believe the parliament works in harmony. Casting aspersions on the House may tarnish it's integrity. Members should be careful when addressing the press; the former chairman has just returned from suspension over comments that almost threw the integrity of the House to the mud; a precedence was set", Abonta said.
Also speaking in support of Abiante's motion,  Daniel Asuquo and Razak Atunwa stressed the need for the House to take decisive actions in dealing with any member who deliberately puts the integrity of the House to question adding that it is totally unacceptable for anyone to desecrate the parliament in the manner the Edo lawmaker did.
In his ruling, Speaker Yakubu Dogara noted that the amendment exercise was not the first of it's kind in the 8th House as such, "Agbonayinma cannot school the House on how to handle its affairs".
  Recall that the House last month, amended the Electoral Act, part of which is alteration of the sequence of the 2019 elections which has generated varying reactions.