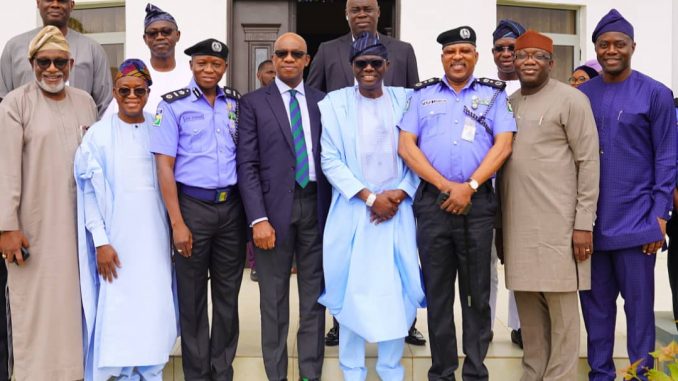 Governors from the south-west states have obtained an approval from the office of the national security adviser (NSA) to set up a regional security outfit.
According to The Nation, the approval will birth a joint task force code-named Western Nigeria Security Network (WNSN) to tackle insecurity in the region.
The six governors met twice in June at Ibadan, Oyo state capital, and July at Akure, Ondo state capital, under the coordination of the Development Agenda of Western Nigeria (DAWN), to draw up new strategies to curb the rising insecurity.
Rotimi Akeredolu, chairman of the South-West Governors' Forum, had told journalists after the meeting in Ibadan that the security architecture of the region would change from August.
In preparation for the inauguration of the security outfit by October, the governors have reportedly purchased patrol vans to be used by each state.
The security outfit, which is reported to comprise local hunters and members of the O'odua Peoples Congress (OPC), has a team that will coordinate intelligence gathering.
The operatives are to monitor neighborhood activities and also comb forests in the region.
Members of the team are also expected to work with traditional rulers and other security outfits in order to ensure they work within the ambit of the law for effective operations.
Speaking earlier in the month, Dapo Abiodun, governor of Ogun state, had said the joint security team would patrol major roads and provide adequate security for residents of the region.
There has been a growing clamour for state police following the high rate of insecurity in the region and other parts of the country.
Among the high cases of insecurity in the region this year are the murder of Funke Olakurin, daughter of Reuben Fasoranti, Afenifere leader, in Ondo; abduction of Yinka Adegbehingbe, a professor at the Obafemi Awolowo University, Ile-Ife, in Osun and kidnap of five ministers of the Redeemed Christian Church of God (RCCG).
The governors met with President Muhammadu Buhari in June after a presidential panel on human rights abuses by special anti-robbery squad (SARS) recommended the establishment of state and local government police, but the governors did not reach an agreement on the matter.
Ogun, Oyo, Ondo, Ekiti, Osun and Lagos are the states in the south-west region.
THE CABLE