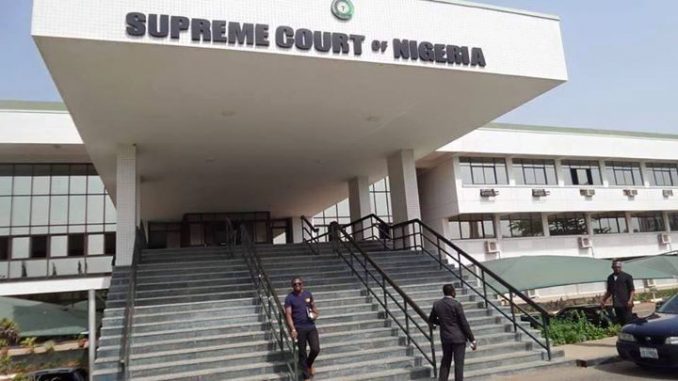 The Supreme Court has warned those criticising it over the pronouncement on Senator Godswill Akpabio, former Minister of Niger Delta Affairs and Senate President Ahmad Lawan.
Although Akpabio and Lawan, did not contest senatorial primary elections in their respective constituencies as a result of their involvement in the Presidential Primaries of the All Progressives Congress (APC), the apex court ordered the Independent National Electoral Commission (INEC) to recognise them as candidates for the February 25 elections.
Faroq Kperogi, a US-based Nigerian professor and social commentator, had written a critical piece about the judgement.
In a statement, which its Director of Press And Information, Dr Festus Akande, issued on its behalf, the court kicked against what it described as "unwarranted attacks on judicial officers."
The statement reads, "We have watched with utter dismay some unfortunate events that have been unfolding in the country, particularly within the political landscape, for some days now.
"It is so disheartening to learn that some individuals and groups of persons who ought to know better and even assume the revered positions of role models to a larger proportion of the citizens are now sadly, the very ones flagrantly displaying ignorance and infantilism in the course of defending the indefensible.
"In an ineptly scripted toxic article, one Farooq Adamu Kperogi, who described himself as a Nigerian-American Professor, decided to plunge into an abysmal pit of irredeemable ignorance by venting convoluted anger on Supreme Court Justices with a view to pleasing his paymasters.
"We have made it abundantly clear on different occasions that Judicial Officers are neither political office holders nor politicians that should be dressed in such robes. Our silence must not be mistaken for weakness or cowardice.
"Certainly, every Nigerian citizen has an inalienable right to express his or her opinion without any encumbrance; but even in the course of expressing such fundamental right, we should be circumspect enough to observe the caution gate of self-control in order not to infringe on another person's right.
"Even in a state of emotional disequilibrium, we should be reasonable enough to make a good choice of decent words, as every word employed by the pen-happy Kperogi only succeeded in portraying the kind of vacuum that sign-posts all that he has as academic accomplishment.
"I believe those who possess similar credentials with him are obviously ashamed of celebrating any form of affinity with such a character that has an odious reputation for being a serial verbal assailant over the years, as he sees nothing good in anything good.
"He has only succeeded in inflicting upon himself a mood of bellicose jingoism which does not represent a mark of honour for any discerning mind or academic, the world over.
"Courts don't advertise or scout for cases for adjudication; but at the same time, we are duty-bound to adjudicate on all matters that come before us with a view to giving justice to whoever justice is due, irrespective of status.
"No court in any clime is a Father Christmas; so, no one can get what he or she didn't ask for.
"Similarly, all matters are thoroughly analysed and considered based on their merits and not the faces that appear in Court or sentiments that attempt to becloud the sense of reasoning. So, for anyone in his or her right frame of mind to insinuate that the Justices have been bought over by some unknown and unseen persons is, to say the least, a bizarre expression of ignorance, which definitely has no place in law or even in the realm of pedestrian reasoning.
"We are not surprised with the surge of these well-orchestrated verbal assaults on Judicial Officers across the country at this period of elections. It is a thing we are used to and are ever ready to absorb whatever comes our way, but there should be some level of decorum and dignity in what we say and do. Politics should not be played without recourse to good conscience and acceptable moral conduct, as everything is evolving globally. Those who have cultivated the unfashionable penchant of always attacking the Judiciary over every judgment or ruling given should better have a rethink and start channelling such robust energy into some ventures that are more developmental than destructive.
"We are not politicians and should not, by any stroke of imagination, be cast in that mould either. Nobody's interest can ever supersede the interest of everybody. Nigeria is bigger than every one of us. A word is enough for the wise."