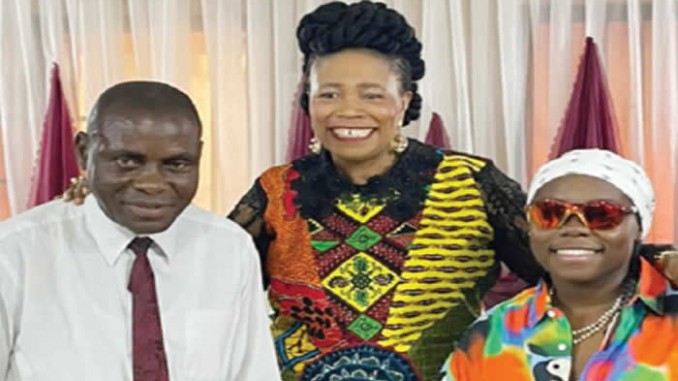 Kelvin Ofudje, former teacher to famous singer, Teni Apata has explained why the talented artiste bought him a car to celebrate the World Teachers' Day on Wednesday.
Ofudje, said in an interview with Punch that he went the extra mile to teach the singer mathematics and she later appreciated all he did for her while schooling overseas.
He said: "Let me tell you about my relationship with Teni. I was her lesson teacher. When she was in primary school crossing over to secondary school, her mum needed a home lesson teacher that would take care of her academic work, on a one-on-one learning arrangement.
"There was a particular girl in their house named Lola, who was my first student in the house. It was Lola who recommended and introduced me to Teni's mother. And that was how I started teaching Teni and her younger sister, named Teju, who is now a medical doctor in the US. I tutored both of them from JSS1 to SS3 as a home lesson teacher. I went to their house two times in a week"
When asked if the car gift from the singer came as a surprise Ofudje said: "No, the car gift didn't come as a surprise. When I was teaching her back then, she felt I was wicked because I am a disciplinarian. There were times I flogged her for not coming for home lesson. Her mum didn't take sides with her; she would even ask me to flog her much more whenever she skipped her home lesson.
"When she went abroad for further studies, she then realised how important the things I had taught her were. She appreciated what I did back then. At a point, she told her mother that she would want me to be her children's lesson teacher when she grew up. Whenever her mum went to visit her abroad, she usually sent gifts to me through her mum".
Speaking on the exact moment he was given the car by his ex-student, the elated teacher said Teni had promised to do something memorable for him.
"During the (Teachers' Day) programme when she started talking about me and appreciating me for being part of her academic journey, I began to have the feeling that a tangible gift was going to come from her; but I didn't know what it could be or when it would come. But the moment she started shouting, "Where is Mr Ofudje?" I knew something was coming. Receiving that gift, I was really excited.
"I am glad she understands now that I wasn't being wicked to her back then as her home tutor. I have been able to tell her that being a disciplinarian was informed by the way I was brought up. Teachers are not wicked; we just want our students to learn", Ofudje went on to add.