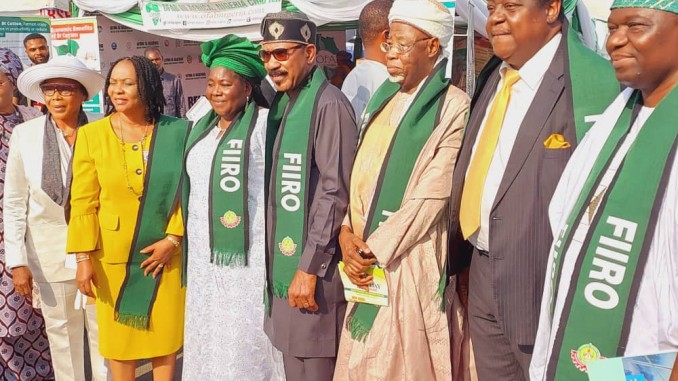 Investors and relevant partners in the Science, Technology and Innovation, STI, have been called upon to invest in cutting-edge products, goods and services of the Federal Institute for Industrial Research, Oshodi, FIIRO, towards aiding the economic diversification of the Nigeria's government.
Director-General/CEO of the research institute, Dr (Mrs.) Jummai Adamu made the request on FIIRO Day at the Science, Technology and Innovation Expo 2023, holding at the Eagle Square, Abuja.
Dr Adamu also sought collaboration of investors to support the nation in achieving its diversification agenda of moving from consumption to production economy through effective STI utilization in the shortest possible period.
She spoke on "Actualizing Effective Diversification of Nigerian Economy through Science, Technology and Innovation," and said the event had presented itself as a clarion call for serious commitment by those in the sector to move the economy from consumption to production geared towards the economic growth, liberation and self-reliant.
She noted that the mono-economic dependence on oil and gas, which is non-renewable, has kept the nation far away from meaningful development that would have made her respected among comity of nations.
"This is attributed to our inability to properly utilize STI as the fulcrum for modern development. It is to be noted that all developed and developing countries all over the world are where they are today because they realized that it is only through Science, Technology and Innovation, that all our problems can be tackled.
"It is an established fact that Science, Technology and Innovation holds the key to the present and future development of any nation as it plays a fundamental role in wealth creation, improvement of quality of life and real economic growth and transformation in any society," she said.
Making a case for the sector, Dr Adamu added that STI has impacted many economic areas reducing poverty, promoting healthier and more productive lives, rapid improvement in agriculture, energy, environment, economic growth.
She however regretted the existence of technological power vacuum in Nigeria, and advocated adequate mobilisation of human resources to tackle the technological challenges confronting the nation, arresting the menace of poverty, youth restiveness, terrorism, kidnapping and banditry currently ravaging the country.
The FIIRO chief executive noted that the Federal Government is of recent paying more attention to the diversification agenda through the STI by building a knowledge-based economy that will industrialize the nation.
She said this is aimed at ensuring that Nigeria takes comparative advantage of her abundant minerals and agricultural resources through value addition to enhance local production as against the import dependence of the national economy.
"As you may be aware, one of the key components that aid economic diversification is technology transfer, which is the innovation capabilities of any organization that want to thrive technologically.
"Increase in economic diversification will expose us to opportunities to utilize our technological prowess and become more capable to generate new technological solutions due to cross- fertilization of ideas among different knowledge areas of diversification, thus producing positive effects on our innovation performance," she said.
She disclosed that FIIRO has participated significantly in supporting the full diversification of the economy through research breakthroughs which focused on R&D activities that are market-driven and demand-oriented.
She listed development and production of high nutrient biscuits for school age children; ready-to-use therapeutic foods for the management of Severe Acute Malnutrition, nutraceuticals for the management of diseases such as sickle cell anaemia-research and commercialization and development of Antilpemic/Hypolipidemic from selected fruits for the management of obesity as part of FIIRO's achievements.
Others are utilization of neem extracts for production of neem skin care/oral hygiene products; development and production of fibre-enriched bread, fishmeal analogue from alternative sources; production and utilization of industrial enzymes; and development and processing of fresh tomatoes into different food forms.
Having recognized the role innovation plays in industrializing a nation for socio-economic development and sustainability, FIIRO has also produced prototypes of some critical STI equipment.
These include fruits and vegetables washer, powered by 3hp geared electric motor; production of mechanical grains dehuling machine; designed and fabricated pepper grinding machine; designed, developed and launched prototype PGM, as well as designed and fabricated DHA Generator, vegetable dryer and HGT.
She disclosed that the institute, in collaboration with relevant stakeholders is currently working with some organizations on its R&D products, goods and services.
These are Mountain Top University, Jebba Paper Mill Industries, Tiger Food Limited, Lashone Links Communication Limited, Lens of Konsult LLC, USA; Covenant University, Otta, Ogun State; FIIRO-Betamark Production Processing Limited, Honeywell Flour Mills, MOKK Investments and Seed Concept.
Others are Jedidiah Empowerment and Leadership Foundation, OIIO NUOVO Limited, Nasco Foods Limited, EPINA Technologies Limited, Discount Microfinance Company Limited, Kwara State Polytechnic, Ilorin, Kwara State, May and Baker Plc, NASME/Goodware Stitches and Archimedes Technology Corporation and Platform Capital.
She listed the institute's new products at the 2023 expo as development and production of packaged feed for growing snails; heat-treated ductile iron for the production of brake disc; development and production of brake pads from palm kernel shell composites; African yam bean (sphenostylis stenocarpa); development of Kunu Zaki production technology; manual slippers sole mold and fruit washer technology.