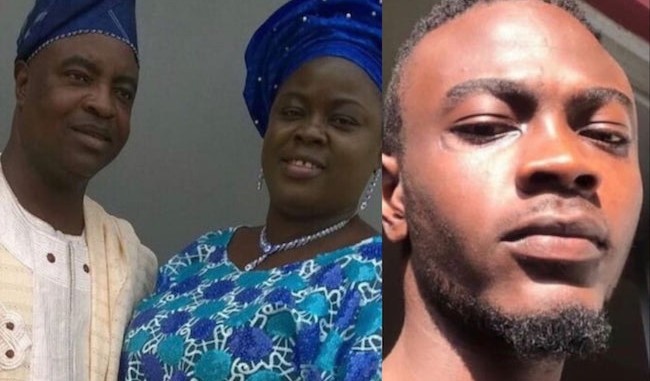 Lekan Akanbi, the suspected mastermind behind the murder of a former employee of the Central Bank of Nigeria, Mr Kehinde and his wife, Bukola, on New Year Day in Ogun State, has revealed he killed the couple and their son over rejected salary increment request.
He claimed the failure on part of the deceased to grant his request and approve his salary led him to the act.
The suspect, who spoke when he was paraded by the Ogun State Police Command on Friday, claimed he contracted two cultists to kill the couple and their only son, Oreoluwa.
He said, "I took the step because the couple refused to increase my salary, and when I approached them for a loan to buy a motorcycle, they didn't oblige.
"Since that failed, I gave the deceased my Access Bank account to which the sum of N1,102,000 (One million one hundred and two thousand) was transferred at gunpoint.
"When I realised that my identity had been known through my bank account, I decided with others to terminate the couple. That was when Waheed Adeniyi a.k.a Koffi took a knife from their kitchen and slaughtered the husband, Kehinde Fatinoye, while I used sledge hammer to hit the wife, Bukola Fatinoye, on the head and she died on the spot."
Briefing newsmen about how the suspects were arrested, the Police Public Relations Officer, Abimbola Oyeyemi, said, "In the course of the investigation, Lekan Adekanbi, a driver to the deceased family, was arrested based on circumstantial evidence while the investigation continues.
"The suspect, Lekan Adekanbi suddenly collapsed in the cell on the 2nd of January 2023 and was rushed to the hospital for medical care.
"But while in the hospital receiving treatment, he suddenly jumped from the bed and escaped through the fence of the hospital.
"His escape further confirmed the police suspicion of his involvement through the intelligence-driven investigation by the Commissioner of Police who ordered the State anti-kidnapping unit to join forces with the homicide unit in order to get the escaped driver and his accomplices arrested.
"The two teams, in compliance with the CP's directive, embarked on a technical and intelligence-driven investigation and traced the movement of the suspect to his elder brother in Iseyin, Oyo State but he had left the place before the arrival of the police.
"The teams further intensified their efforts which yielded positive results when Lekan Adekanbi was apprehended in his hideout somewhere in Abeokuta on the 21st of January 2023.
"Waheed Adeniyi a.k.a Koffi and Ahmed Odetola a.k.a Akamo were apprehended at Ogere on Thursday 9th of February 2023.
"The three suspects who are members of Aiye confraternity have all confessed to their various roles in the gruesome and callous murder of the family."
THE PUNCH