By Kemi Yesufu
Ask a young and upwardly mobile Nigerian, especially those from the internet savvy Generation Z to define WAGS, and they will simply say it means, Wives And Girlfriends of Sport Stars.
Indeed, this coinage of the British tabloid reporting the glamourous lives of spouses of rich and famous sportsmen is the easiest definition of WAGS most urbane Nigerians can think of. But for staff of the Nigeria For Women Project (NFWP), domiciled in the Federal Ministry of Women Affairs, WAG which they define as Women Affinity Group is a platform through which they are lifting thousands of women out of poverty.
Nigeria For Women Project is a five year intervention by the Federal Government with support from the World Bank. NFWP is aimed at promoting gender equality and improving women's economic status at individual and at household levels. All women from 18 years above involved in any form of legal business can join a WAG and enjoy its benefits. The first phase of this project is being carried out in 18 Local Government Areas (LGAs) in six states, one each from the six-geopolitical zones of the country.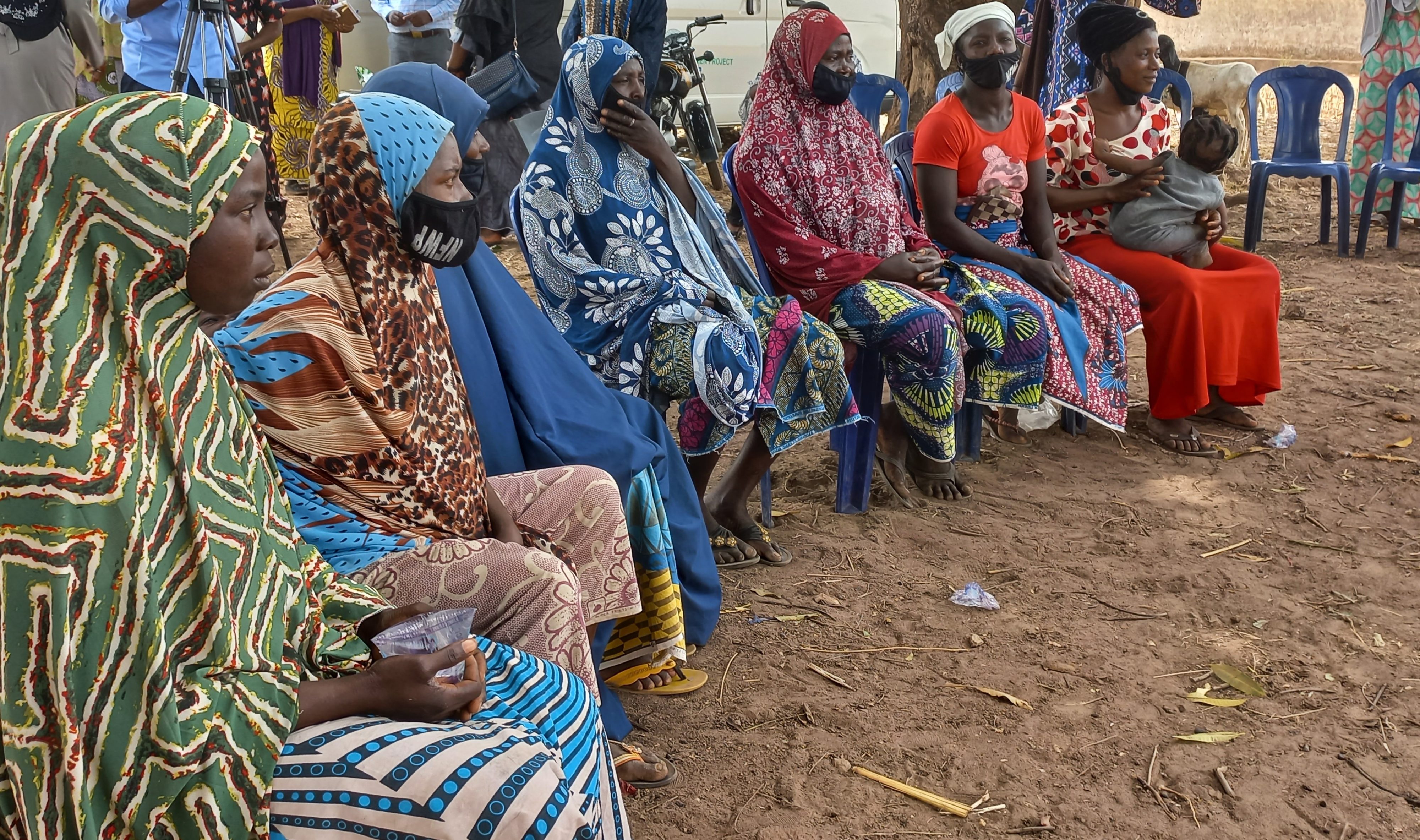 Like the proverbial little drops that make a mighty ocean, low income female entrepreneurs operating on the WAG platform have raised over N1bn across five states. Over 200,000 women in Abia, Kebbi, Niger, Ogun and Taraba raised the figure under the Supporting Improved Livelihood For Women in Nigeria programme currently being executed by the Nigeria For Women Project.
Speaking at a three- day workshop for media, held in Abuja in February, National Project Coordinator NFWP, Mrs. Ruth Peter Mshelia said the women diligently pooled the funds together, proves that women can improve their economic status with the right kind of training and support.
Mshelia disclosed that the programme which promotes inclusion, bringing in women from different demographics ages 18-above was designed to provide grants of N60,000 maximum to those who come together to form a WAG after they have undergone training.
Frontline News Online, recently attended the meeting of a WAG in Gurara LGA, Niger State, during which the women displayed discipline and commitment that probably explains the admirable success recorded across the pilot states for NFWP. The members of the WAG at Tofa Kampani community, Gurara LGA , held their meeting under the mango tree, handling their deliberations in timely manner, women with roles stood to handle their duties without much ado.
The meeting started with the women singing happy songs, showing comradery, but deliberations became business-like after the opening prayer. WAG groups place their savings in a strong metal box which has three padlocks only opened at meetings by key-holders who belong to the group. The Tofa Kampani WAG is no different. As the meeting commenced, Hadiza the keeper of the metal box presented it, while each of three key holders took turns to unlock the padlocks used to keep strong box locked. The meetings for saving money is different from the meeting for giving members loans and what this reporter witnessed was a meeting for collecting savings. It therefore was not surprising that this WAG with 25 members during this meeting which was the 38th week the women have met, saw each member dutifully drop N50 as savings contribution, while the weekly N500 contribution of members was later collected. Individuals keep track of their contributions with a personal NFWP passbook which is marked immediately a contribution is made. N50 and N500 may seems meagre to mid and high level income earners, but members of the Tofa Kampani WAG who spoke to Frontline News Online, said they have borrowed money from their group which is collected from their N500 weekly contributions, even as the N50 contributions for savings (welfare fund} has been used to help and support members during family events. The women of this WAG at Gurara LGA are involved different small businesses, from converting padi to rice, food vending and sale of local seasoning called Kandolo.
A member of the Tofa Kampani WAG, Victoria Ibrahim, explained how her life and that of her family has been positively impacted by her membership of the group. Speaking through an interpreter, Victoria also opined that their community has become closer, with families of WAG members better off financially. "I thank God for this meeting. It has really helped us women. Before, we hardly had businesses or sources of income, but now we have managed to establish businesses. The love we have for each other has also increased, before many of us just exchanged greetings and moved on, but now, we have been brought closer through this meeting", she disclosed.
More testimonies have come from the official launch of the disbursement of N60,000 grant to WAG members across Niger State, held in Minna, the state's capital. At the event chaired by the Niger State Governor, Abubakar Sani-Bello, with the minister of the of Women Affairs, Dame Pauline Tallen and NFWP National Coordinator as special guests, women who formed part of the first set of 232 beneficiaries received their grants through electronic transfers. The first batch of cash transfers sent to beneficiaries was supervised by Governor Bello, the minister for Women Affairs and the NFWP National Project Coordinator.
Speaking with the media at the event, a recipient from Tofa Village, Rahmatu Muhammad, described the grant as life changing. "Before, we were not doing much, but with this intervention, we are better than we were", she said. For Amina Muhammad from Lambata Village she said: 'I didn't have good capital but the loans we give ourselves in our group has helped my business grow. Now, I take bags of beans to markets to sell". Another WAG member from Lambata Village who got the N60,000 credit alert, Zainab Abdulateef was full of thanks for the lifeline from government, saying, "I just received an alert of N60,000. I will add it to my capital. I thank God. I am happy".
Earlier in her address, the National Coordinator of NFWP, Mrs. Ruth Peter Mshelia, expressed gladness that the grant disbursement which follows weeks of training for WAG members has been kicked off. "We sincerely thank His Excellency, the governor for making this happen. This is also to inform you that this is the first of its kind. We are flagging of the disbursement of grants here in Niger State", she stated.
Speaking on the sideline of the event, Niger State Coordinator for NFWP, Mohammed Sarki Bello said: "The collective grant is yet to be unveiled, but this is the flag off for individual grants and as you can see beneficiaries have received theirs".