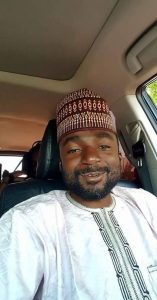 Mopmi Samson Marc, a top aide of Mrs. Gimbiya Dogara, the wife of the Speaker of the House of Representatives, Yakubu Dogara, lost his life in a ghastly car accident, seven days to his wedding, Frontline News Online can reveal.
Though the Late Marc, left his relationship status as , "it complicated" on Facebook, friends who mourned his loss on the social media site, took turns to lament the fact that he died a week to his wedding to his fiancee, Phoebe.
Sources told Frontline News Online on Monday night, that Marc, who graduated from the Tafawa Balewa University Bauchi State was on his way to Bauchi to put final touches in preparation for his wedding,  when he got involved in the accident that  took his life close to Jos, Plateau State.
Marc was scheduled to wed on Saturday March 31 but was killed in the crash the Saturday before.
A friend of the deceased, Iye Adams Yaro, said  on Facbook that he recently visited an orphanage to make a donation, assuring her that he would always stand by the children in the home. "You left our Orphanage on Monday after dropping bags of food for the Children. I felt bad that your white caftan was stained but I knew that I dare not stop you. You told me not to worry that you'll stand with us to get more support for our children. I met you just last year but your selflessness and commitment to our Children always thrills me. It's exactly one week to your wedding and the news am receiving is of your demise this morning. It's painful, so painful. I can't explain how I feel. Oh death! Rest in peace".
Another friend, Danjuma Yusuf Sarauta, posted on Marc's timeline revealing that he chatted with his late friend on Wassap a day before he died. "Still can't believe you are gone. We chatted yesterday about your wedding….oh death!!! Just a week to your wedding 'fa'. RIP my brother and friend".